Tools
Search the Internet: Google Yahoo
Find a phone number: YellowPages or WhitePages
Web based email: YahooMail Hotmail
Look up Stock Quotes
Maps and directions: Mapquest
Useful links for Travel, shopping & dining and Movies
Job resources Website design resources
Fitness: Fitness and exercise information
EHSO: Environment, health and safety Information
Chastain Park: Looking for Chastain Park Concert tickets or directions? Click here
Converting Adobe Photo Deluxe to JPG
This is for Apple/Mac computer users: Scans made using Adobe Photo Deluxe are stored in the Photo Deluxe (PDD) file format. Web browsers do not support this format so if you want to post the scan on a web site you will need to convert it to a file format like JPG. Here is how to convert the file.
First, open the file that you want to covert in Adobe Photo Deluxe. Next, select File, Send to, File Format, as you see here: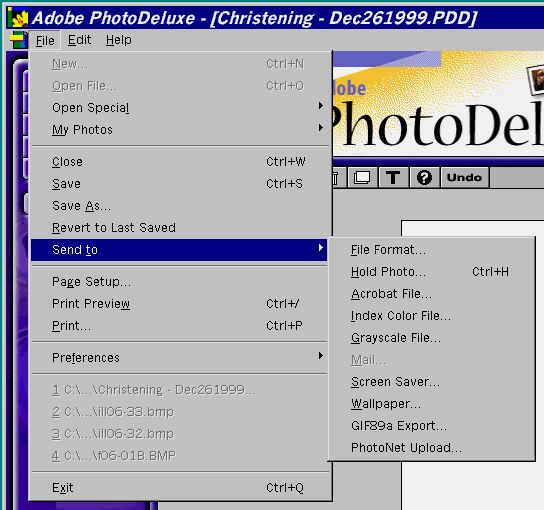 The Export dialog box will open, as shown here: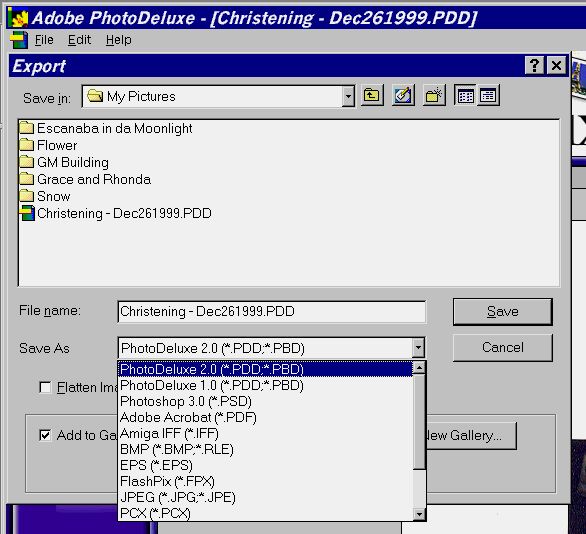 Enter a name for the file in the File name box, and select the JPEG file format from the Save As drop-down list, as the illustration above shows. Click Save to save the file in the JPEG (JPG) format.
After you save the file in the JPEG format you can open it up in Photo Deluxe and edit the file. A popular free program to edit files is called IrfanView32.